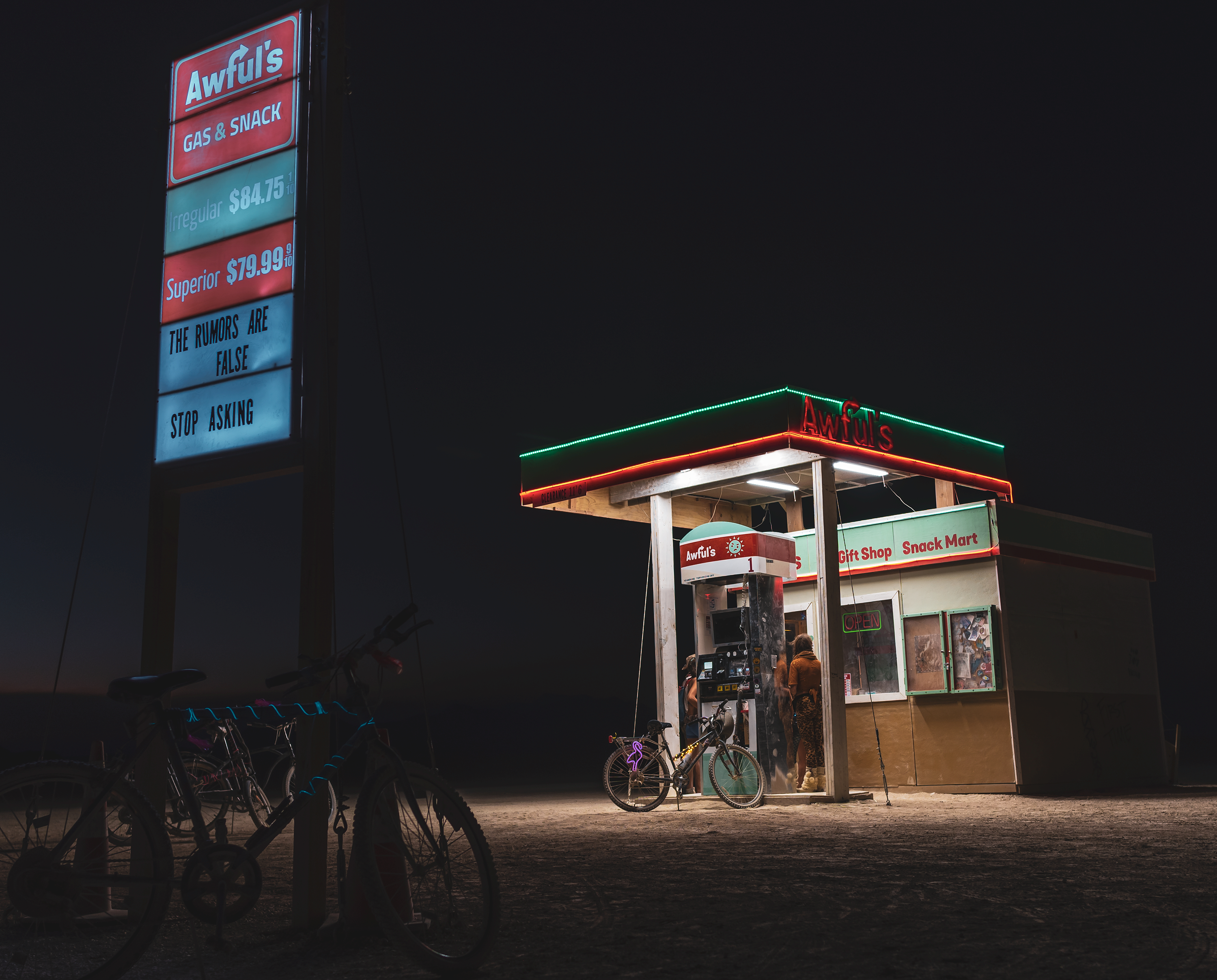 Awful's Gas & Snack
I was the lead producer of Awful's Gas & Snack, an immersive art installation about a potential post-climate crisis future, which was staged at Burning Man and Planet Home San Francisco in 2019. The project was designed as a practical joke, with a goal of tricking people into thinking about climate change and how it will alter our day-to-day lives.
As a participant, you experience the installation first as a sight gag — a life-size, obsessively-detailed replica of a normal gas station, set at the outer perimeter of Burning Man, between the surreal cacaphony of the festival and the awesome stillness of the Black Rock Desert.
On closer inspection, the finer details of the installation begin to tell a story — the gas prices are shockingly high, and the gas pump is playing historical videos about the interstate highway system on a loop. The mini-mart carries strange food — dried mushrooms, kelp snacks, and cricket chips in three flavors. There's an alcoholic beverage available, and the (extremely rude) attendant treats you like an idiot when you ask if it's beer.
There's a map on the building showing you where you are. You recognize the land — it's the Black Rock Desert — but all the place names have changed, there's a second lake you don't remember, and the boundaries of the nearby reservation are larger.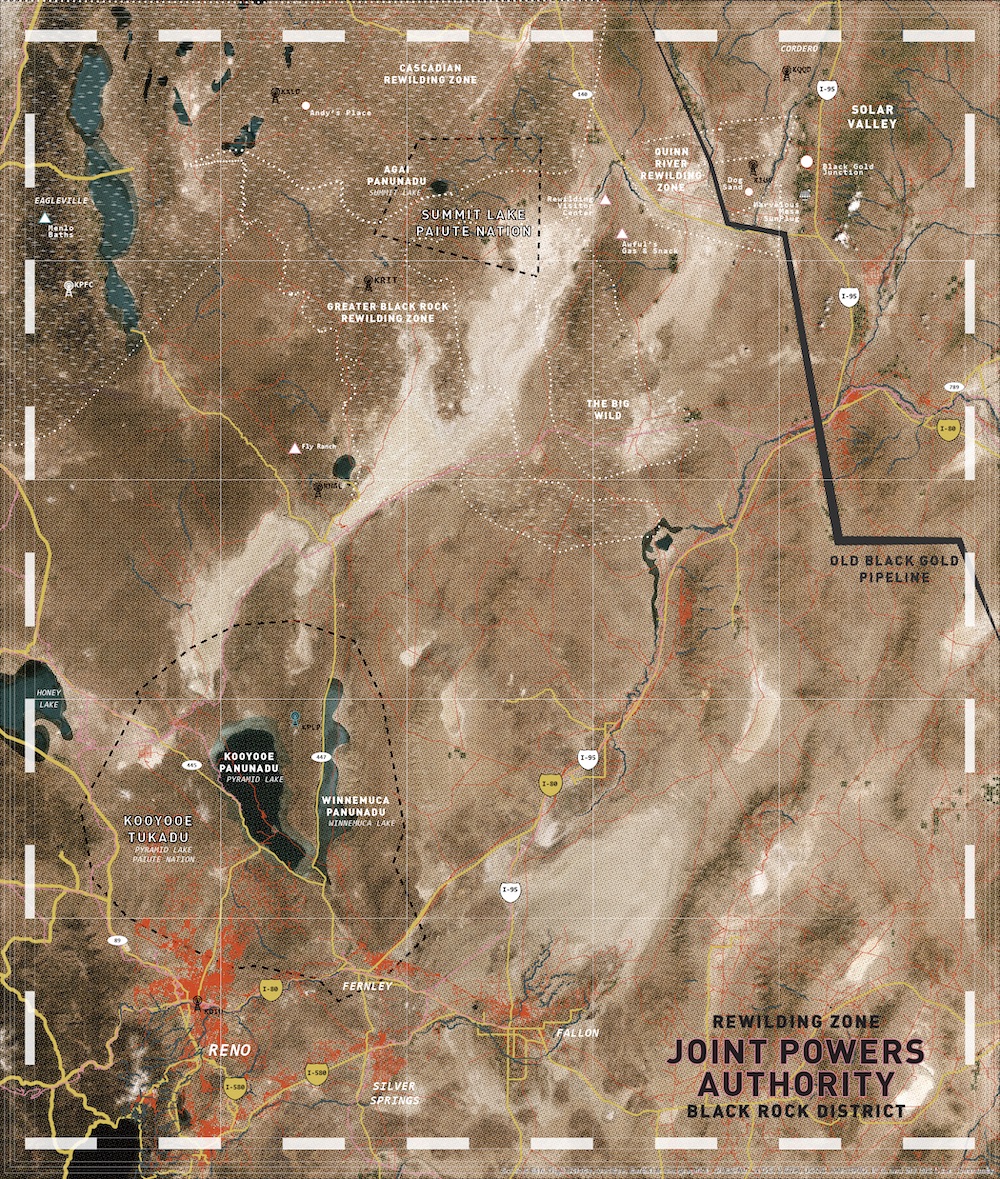 There's also an exhibit of the history of climate activism on the side of the building, featuring old protest posters, including one for an action taking place next month, and another for an action in 2023. You can hear a faint radio station with a man reading the news. He gives the date — August 29th, 2120.
Finally, there's an open door leading to the employee break room. The objects and media inside reveal a richly detailed slice of the world of one possible future, in a dusty tourist trap at the edge of something called the "Rewilding Zone." The posters, the radio station, and the diary of one of this gas station museum's employees illustrate a world torn apart by climate change, and then painstakingly put back together by generations of determined humans.
This future is not an eco-utopia — the world is still riven with conflict, and there is a dark conspiracy at the heart of Awful's Gas & Snack, which, of course, culminates in the building being burnt to the ground.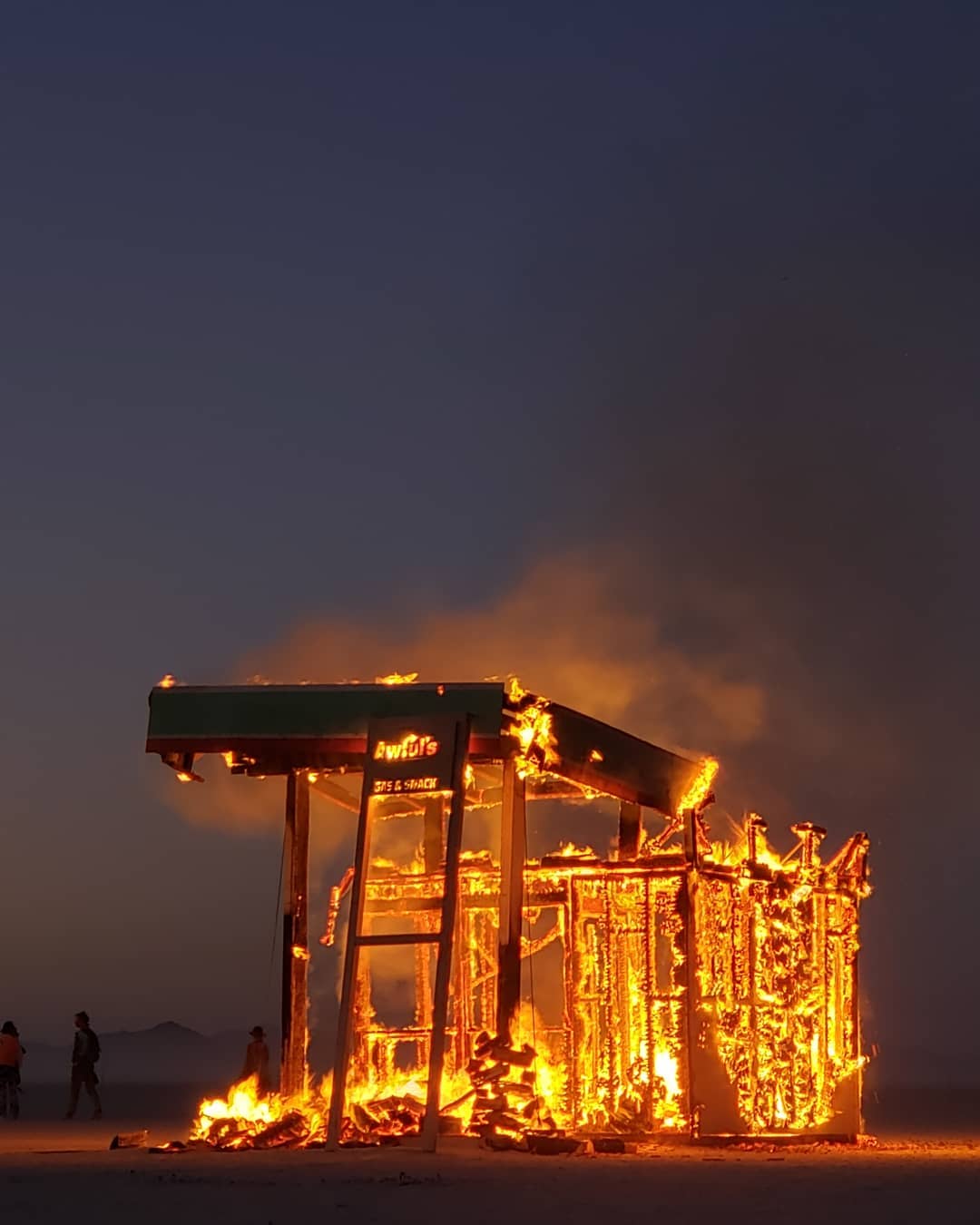 I created the concept for Awful's Gas & Snack out of my desire for optimistic science fiction narratives about climate change, my desire to use immersive art for storytelling, and my love of gas stations. I wrote the original grant proposal, built and led a team of over 30 people across a broad array of creative and technical disciplines, and succesfully saw the project through to completion.
In our design and research process, we used techniques developed by groups like Situation Lab, Extrapolation Factory and Institute for the Future in the emerging discipline of experiential futures. We read and engaged with Black and Indigenous scholars and science fiction creators to inform our work, incorporating non-Western futurisms into our narrative.
Through grants from the festivals that showed our work, as well as a succesful Kickstarter campaign, we raised over $20,000 to fund construction, fabrication, transportation and exhibition.
We made a strenuous effort to walk our talk. The installation was built almost entirely from reclaimed wood and secondhand materials, and was powered by a solar and battery system built with used solar panels and used Nissan Leaf batteries. We also transported the entire burnable portion of the installation — a total of just under 5,000 pounds — from Oakland to Reno, over the Sierra Nevadas, using a Tesla Model X.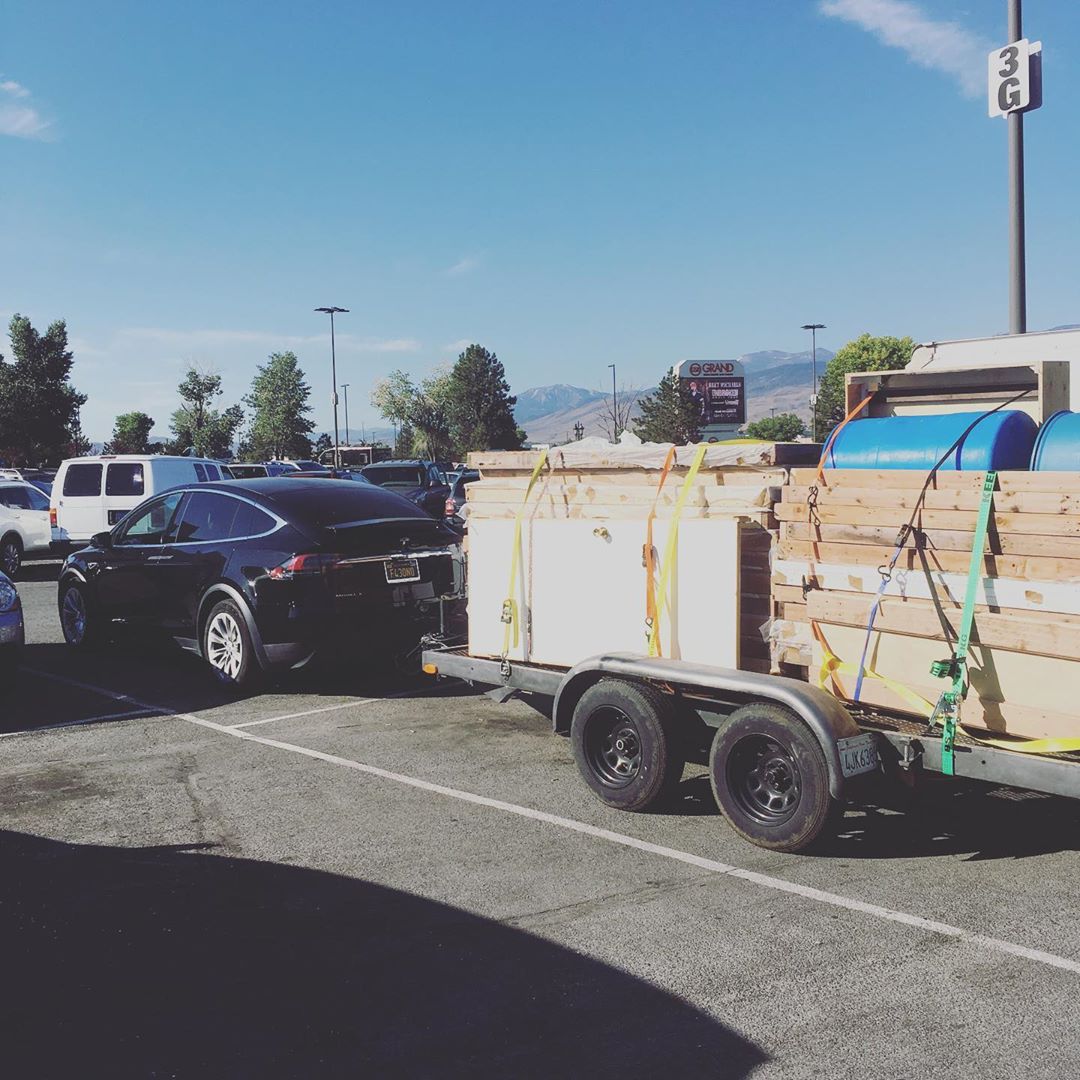 Most significantly for me, we also worked with the Pyramid Lake Paiute Tribe on an ecosystem restoration project on their land. Central to our narrative was the idea of reparations — that a necessary component of climate justice must include the return of land to indigenous people, along with a process of restoring ecosystems destroyed by colonization. Projects like these are happening in the present, and I felt it was important to work directly with the people included in our narrative, to give them the space to define their own role in the future, and to offer them our time and labor as a gift.
Immersive installation art is ephemeral, and it is difficult to judge the impact. We do know that our installation was extraordinarily well received, extremely popular, and crowded from open to close every night. At least several thousand people spent time in our imagined future, thinking about how climate change will effect the things they take for granted. Some people came back several nights, some every night. Dozens of people have told us, both during the event and long afterwards, that it was the best piece of art they saw at Burning Man that year.
These are some of the reviews we received, online and in person:
"It was an absolutely flawless execution of humor and levity, and it meant a lot to see something at the Playa that contended with serious and important subjects along with pure ridiculousness."
"It was the most impressive, intricate, immersive, smart, profound, moving, confusing, convincing thing on the playa. Absoultely in awe of what you guys put together."
"I got insulted by the guy behind the glass and it was one of my favorite memories lol."